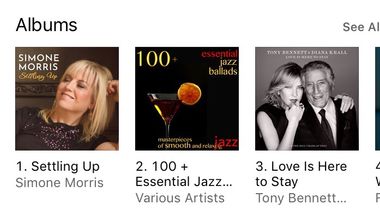 MY DEBUT ALBUM "SETTLING UP" HIT #1 ON THE ITUNES CANADA JAZZ CHARTS November 3rd, 2018!!!  What an unexpected treat, especially next to a compilation album, and DIANA KRALL and TONY BENNETT!  
MIKE FREEDMAN and I (Mike co-wrote all the songs, produced the album, played guitar on it, mixed it...) are so very proud of the music. To say we invested much of ourselves in the writing and production of it would be an understatement. The smartest thing we did in my opinion was bring in the most perfect people for the music! We recorded at Canterbury Music Company with none other than Jeremy Darby (sound engineer), and selected a dream team of musicians:
Adrean Farrugia (PIANO)
Chris Adriaanse (BASS)
Max Senitt (DRUMS)

...and featured brilliance on several tracks by:
William Sperandei (TRUMPET)
Bill McBirnie (FLUTE)
A world of thanks to CBC Radio's "Big City, Small World" and "Fresh Air" for radio airplay in advance of the release, and to Radio Regent's "Corby's Orbit" for spinning a track on release-day.  I am sure that all of this contributed to the overwhelming results on the day of the release.  
And now, it's out!!! The sense of accomplishment wafted over me in tidal waves, while in somewhat of a state of disbelief that this long road to completion had in fact reached the end. But waking up Saturday morning with my album at #1 on the iTunes Canada Jazz Chart was simply the best.  I am humbled and thrilled at the support of friends, fans and of course CBC Radio! I am incredibly grateful to everyone for making that unforgettable moment happen. I am so looking forward to what lies ahead.  THANK YOU!!!!